COMPANY
FUNNEL INCORPORATED was founded to provide visual communication that could command attention from an audience suffering from information overload. The firm's focus is clarifying complexity with a client's "dry information" (boring stuff nobody wants to read), using visualizations, infographics, instructions, maps and icons. Corporate clients from a variety of industries include: Trek Bicycles, Blue Cross Blue Shield, Eastman Kodak, SC Johnson & Son, Saris Cycling Group, The Minneapolis St. Paul International Airport, Owens Corning, Aprilaire, Turner Broadcasting, Chronicle Books, American Family Insurance,  Dr. TATTOFF tattoo removal, Pfizer, Eli Lilly, Lutron, Staples, Snap-on, Bill & Melinda Gates Foundation, Minneapolis Institute of Arts and the Milwaukee Art Museum. Agency clients include TBWA Chiat Day, Crispin Porter + Bogusky, Goodby Silverstein, Shine, Hill Holiday, DDB, FCB, Planet Propaganda, RPA, R/GA, Carmichael Lynch, Arnold and Cramer-Krasselt. Editorial clients have included national publications such as
Utne Reader, Harvard Magazine, Field & Stream, Popular Mechanics, Popular Science, Fortune, Sierra Club
and
Technology Review. 
PEOPLE
LIN WILSON | Creative Director, Information Designer 
Lin has been an illustrator, art director and designer and has held positions in advertising, corporate communications and information design. He started out in New York as an illustrator for publications such as
Esquire, The New York Times
and
Business Week
. Other companies Lin has worked with include Maritz Motivation, a performance improvement company; Xplane, the company that put information design on the map; and LSB, a branding agency. His education includes a B.F.A. in design from the University of Kansas and studying with Milton Glaser and Robert Weaver at The School of Visual Arts in New York. His work has been featured many times in
PRINT
magazine
and
Communication Arts
. He was recently interviewed  by
g colon
, a design magazine based in Korea. (
launch PDF
)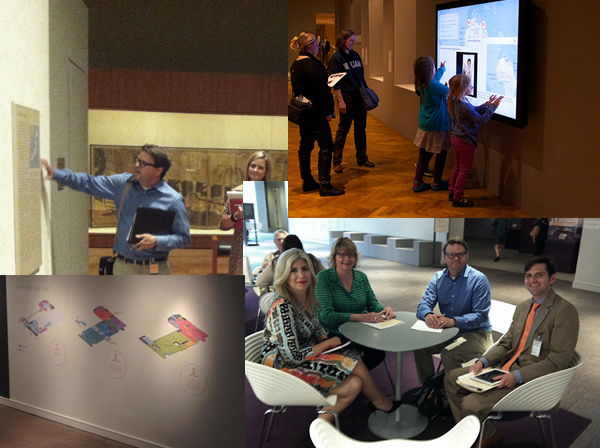 IN THE BOOKS:
We were honored to be featured in Taschen's
Information
Graphics
book alongside Richard Saul Wurman and Nigel Holmes.
Reviews:
"Sometimes simplicity is far harder to achieve than complexity. That is where design comes in. This book, a design nerd's fantasy, comes at the perfect time. "
- Huffingtonpost.com
"Count on TASCHEN to tackle a big conceptual challenge with a big, beautifully designed book... exploring four key aspects of visualizing data — Location, Time, Category, and Hierarchy — through exemplary work from more than 200 projects, alongside essays by information architect and TED founder Richard Saul Wurman, Guardian Datablog editor Simon Rogers, Density Design's Paolo Ciuccarelli, and (Sandra) Rendgen."
- Brainpickings.org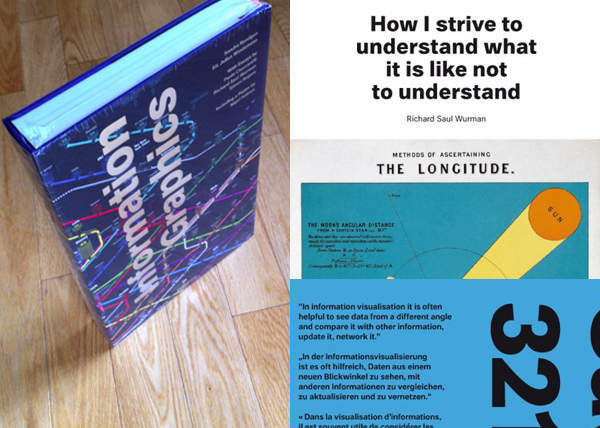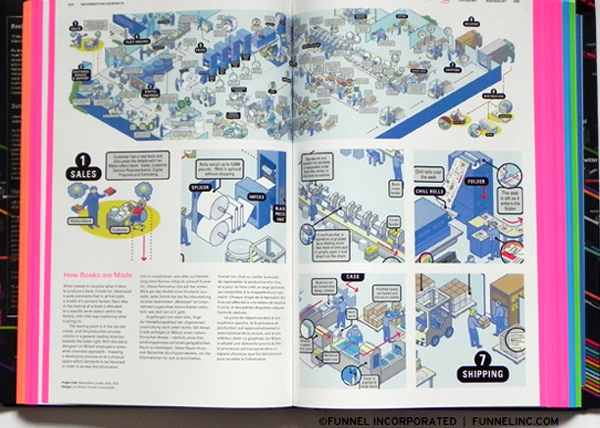 OTHER BOOKS THAT FEATURE OUR WORK:
Data
Flow
by Gestalten publishing (Berlin)
"The abundant examples in Data Flow showcase the various methodologies behind information design with solutions concerning complexity, simplification, readability and the (over) production of information."
Information
Design
Workbook
by Kim Baer and Jill Vaccara (USA)
"...readers will get an intimate understanding of the complexities of crafting information design to effectively improve communication both functionally and aesthetically."
Logo
A
Lot
by RAM Publications (Japan)
"Nearly two inches thick, this indispensable resource guide contains well recognized logos (collected between 1980 and the present) designed by 172 of the world's best-known graphic designers."
CLIENTS & BRANDS
We have worked with some great companies over the years, both direct and through marketing firms.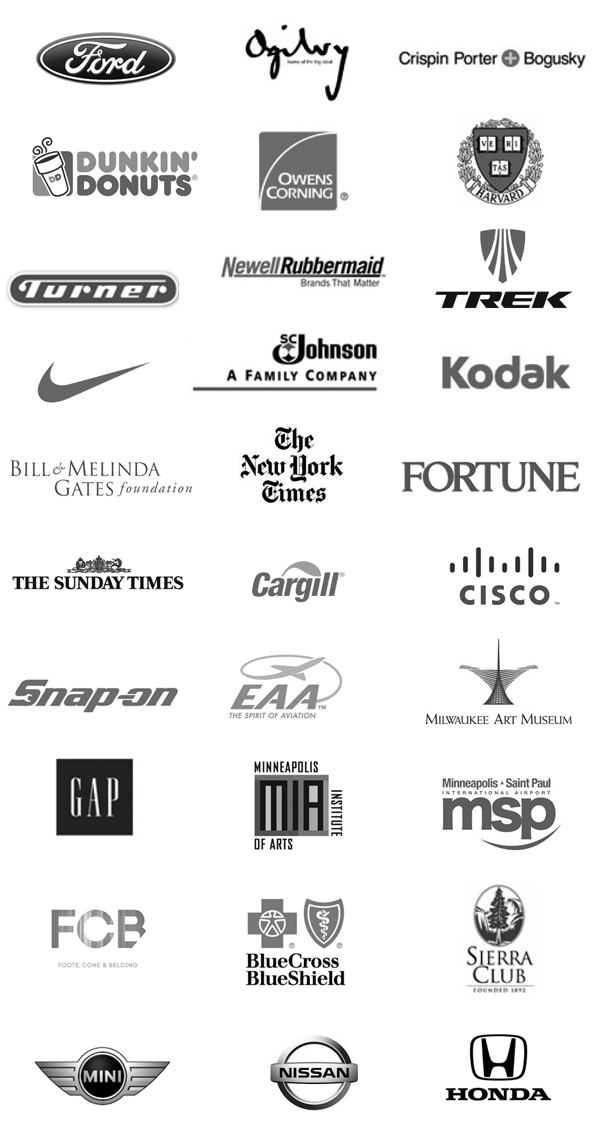 "Funnel's work on our web development project was the difference that secured project funding from corporate management... their diagram allowed non-technical executives to understand the idea, and give their wholehearted endorsement."
- Shawn / Vice President of Brand Management /
Mattel
"Your approach to research, your problem solving skills resulted in accuracy and detail that was very much lacking in our past map."
– Barbara / Director of Operations /
Milwaukee Art Museum 


"Funnel Incorporated made a very complex intranet site easy to understand and navigate. Their diagrams clearly communicated the site's breadth, depth and organization so even our least intranet-savvy employees could log on and find what they need fast. Plus, the friendly style of the design really attracted people and inspired them to take a closer look." 
– Beth / Corporate Communications /
SC Johnson & Son, Inc.


"It looks amazing and it accomplishes just what we hoped it would. I am very excited to bring this work to our readers."
– Jennifer / Art Director /
Harvard Magazine
"These are really hitting it! A real home run." – Marketing Manager /
Badger Meter
"You guys totally rocked this job. Everybody loves these things!" - Jen / Art Buyer /
TBWA Chiat Day
for
Nissan 
"Working with Funnel Incorporated was great. The whole point of our project was to help people understand and get excited about groundwater – we were asking a LOT from just one simple graphic. The graphic is informative without feeling too scientific with a clear, clean style that works in print, on the Web, and in a variety of sizes." - Jeffrey
/ Director of Communications
/
Biodiversity Project

"Clean Wisconsin has used a couple of Funnel's infographics on complex environmental issues. The infographic helps the reader to understand, at a glance, the overall breadth of the issue. We have used infographics in our press kits, newsletter articles and on our website; both for communication consistency across mediums and because they are a terrific way to educate a variety of target markets on complex issues." - Shauna 
/ Communications Director 
/
Clean Wisconsin