INSTRUCTIONS THAT MAKE THE COMPLEX CLEAR: We have been bringing our information design ideas to the field of instructions. Many companies wait until the last minute to create the document that shows how the customer is to use or assemble the product. This sometimes results in a frustrated "ex-customer". By visualizing as much of the information as possible, we are able to communicate key aspects of a product and also save the client money by reducing the amount of text that would need to be translated into multiple languages. 
An owner's manual the press is talking about. - "A huge note in Trek's favor is the
absolutely fantastic documentation
... "-
Peloton
Can you apply branding to owner's manuals and still focus on technical communication? Yes and yes. When Trek Bicycle was preparing to release their fastest bike to date, the 2016 Madone, they wanted to make sure customers knew how to assemble this difficult new technology. Goals for the manual were:
• Communicate how to assemble the bike to mechanics who could easily become confused.
• Design the manual so that its feel matches a $10,000+ purchase (not an afterthought).
• Use illustrations (as opposed to the previous manual's photography) to show difficult concepts, such as internal cabling, fork assembly and helping the customer understand how the entire bike is put together.
The bike contained many new innovations that could puzzle the most seasoned bike mechanics. And since setting up a race bike for a customer involves the shop giving away free hours, the clarity of the document became paramount. Another goal was to make the manual friendly enough for the rider/buyer to digest and understand. The bike launch was a success and is getting good media coverage. As in...
- "A huge note in Trek's favor is the
absolutely fantastic documentation
... the illustrations are
clear and to the point.
There was never a moment that we didn't know what to do next or have a very clear idea of how to do it." -
Peloton
-
"Epic!" - Instagram user
- "It even comes with a fancy assembly manual!" -
WickedWrenching (mechanic)
Various instructional projects
Wordless instructions for a medical device
Instructions for a bike computer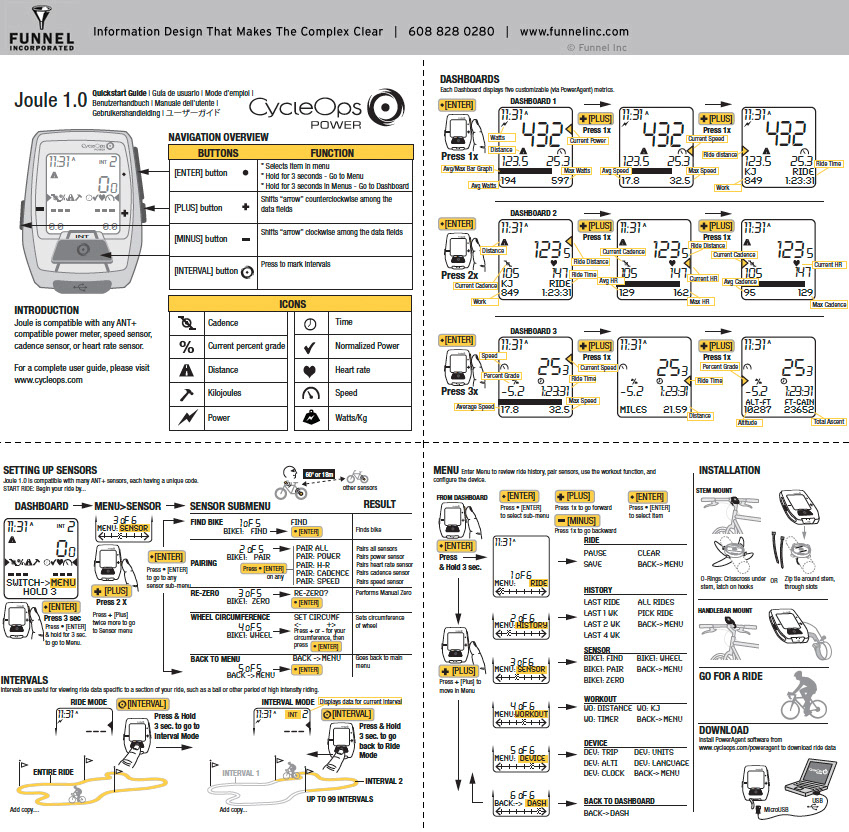 Instructions for a color calibration device made by Kodak Polychrome.
Instructions about how to talk to your children.
Instructions about mixing a performance enhancing (a legal one!) drink.
Instructions about an exercise program created by Nike (Sparq)
Driving Manual instructions for a state government.